The Northport High School FIRST Robotics Club (Team 5099) was founded in 2013 by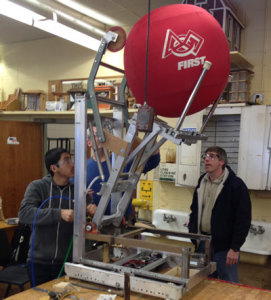 teachers and UTN members Bill Claps (Technology), Daniel Moy (Science), and Greg Robinson (Technology).  It is a club comprised of top students in the areas of Technology (Engineering), Science, and Math.  The organization also includes many community members that serve as mentors.  Mentors work directly with students to share their wealth of knowledge in fabrication and engineering.
The purpose of the club is to compete in various robotics competitions, against other schools associated with the FIRST organization.
To lean more about Team 5099 visit their website.  Please consider helping the team raise funds by ordering a few high-efficiency LED light bulbs.
The club also has many scholarship opportunities available to its students.