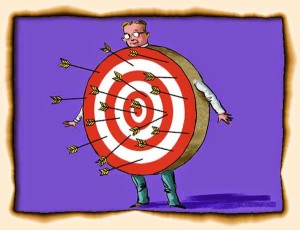 The following article, written by Sylvia Saunders of NYSUT, highlights the serious implications of being a NYS "Receivership School".  Educators face what could be potentially career ending sanctions.  Their crime? Working in a high poverty school district that is unable to financially meet the challenges of the community or overcome the effects of poverty on an entire population of students.
Author: Sylvia Saunders
Source: NYSUT Communications

Scared. Targeted. Set up for failure.

That's how educators from Hempstead, Roosevelt and Wyandanch described their first year so far under the state's receivership law at a union meeting this week at NYSUT's Nassau Regional Office.

In the fourth of several regional informational sessions on the state's new receivership process, NYSUT VP Catalina Fortino assured members the statewide union will support them — and will keep pushing for changes to a very bad law.

"We really opposed this law and we will keep challenging it – in the courts, at the legislative level and with the State Education Department," Fortino said. She said NYSUT has worked hard to mitigate some of the damaging provisions in the law by pressing SED and the Regents for more sensible regulatory language.

Fortino and staff from NYSUT's research and legal departments walked the Long Island members through a detailed look at what the state's new receivership law requires districts to do, receiver powers and timelines. SED in July identified 144 "struggling" schools in 17 districts as part of a two-tiered receivership system. Of those 144 schools, 20 were deemed "persistently struggling" and must show demonstrable improvement within one year. The others have two years to meet improvement targets. Members were disheartened to learn a new list of schools will be produced by SED in February 2016 based on spring 2015 test results.

Beginning this school year, superintendents in districts with struggling schools became internal "school receivers" with considerable autonomy. The law also required districts to create Community Engagement Teams and submit receivership plans with measurable goals for improving.

As school teams relayed what was happening in their individual schools and districts, educators voiced concerns about a lack of community and local union involvement. One local union had not even seen their district's plan. School board members in another district have refused to hire new staff, instead leaving substitutes in place. There was also great deal of misinformation about what "demonstrable improvement" targets would be.

Numerous questions arose about transfer rights, terminations and what recourse staff might have. Fortino said the union will fight fiercely to uphold collective bargaining rights and noted Buffalo's dispute with its superintendent and the commissioner will be a strong legal test case.
VP Fortino welcomes teams from Hempstead, Roosevelt and Wyandanch receivership schools. pic.twitter.com/pbRQSYzztG

— NYSUT (@nysut) December 2, 2015
Local union leaders voiced concern that their schools — and their students — are being set up for failure. Special education students are not receiving required services; classes are severely overcrowded and scheduling problems are prevalent. At one high school, students are not getting the necessary physical education and health classes to graduate. At another, 4,500 students are crammed into just three lunch periods, posing serious safety concerns. Local leaders are concerned unionists will be targeted for termination.

Hempstead teacher Nicole Brown questioned whether the receivership law's punitive nature and the fact it disproportionately affects black and brown students could be a civil rights issue. "They're not attacking the systemic problems … poverty, lack of resources, 100-year-old buildings, misuse of funds and crazy board members," she said.

Fortino said she would follow up on many of the issues raised at the Long Island meeting with the State Education Commissioner. "We need to keep the lines of communication open and keep pointing out specific situations where the law is having harmful consequences," Fortino said. "We will support you and keep fighting to change this bad law."
Getting down to business at NYSUT's Nassau office: Wyandanch teachers Vanessa Perry and Kimberly Donovan pic.twitter.com/rRsE3dDpa9

— NYSUT (@nysut) December 2, 2015